It all started with a grape.
A few years back, we decided to drink less alcohol and started on a quest to make delicious non-alcoholic drinks for ourselves.
It was early on in our journey that we discovered the secret to a great non-alcoholic beverage: verjus. A bartender friend in San Francisco had tipped us off. "Trust me," he said. "Verjus is your answer!" So we went back to our kitchen and got to work.
Why Verjus?
Verjus is shockingly simple, yet remarkably powerful. We make Kally Verjus from just one ingredient: young, tart California grapes that are pressed into a golden liquid. Verjus gives structure to Kally, and helps to balance the acids, tannins and sugars—just like in a great wine. We consider it our playground. 
Magic in every sip.
By combining verjus with real food ingredients, like fruit, teas, and botanicals, we can create a limitless number of delights for the palate. With each release, we introduce new, one-of-a-kind profiles. From spicy and smokey to fruity and herbaceous, we're constantly experimenting and innovating.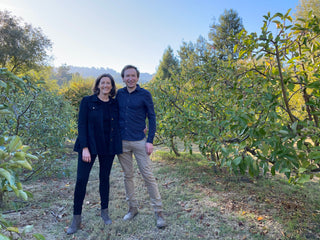 Cheers & Enjoy!
Kally is meant to be appreciated and enjoyed, debated and discussed, paired with food or enjoyed on its own. There's magic in every sip.
Cheers,
Katie & Scott, Co-Founders