Berry Fennel
Non-alcoholic | 750ml bottle
Earthy, bold, and rich. Notes of cherry and chocolate combine for a balanced, seductive wine alternative.
Toasted fennel seeds provide the hint of chocolate, while cherry contributes a beautiful nose —a little sweet, a little woody, with a hint of almond. But when Berry Fennel hits the tip of the tongue, the bite of the verjus surprises, balancing the sweet cherry notes and infusing complexity.

---
Pairings
Beef, pork, root vegetables, pasta, artichoke, chocolate chip cookies, and anything with nuts.
Musings
"Deep red in color with cherries, tea, fennel, and strawberries, it offers a light, airy sip with enough body to satisfy wine zealots." - Perri O. Blumberg, Men's Journal

"Lush and concentrated with strawberry and cherry flavors (and fresh flavors too – no saccharine, overtly-sugary flavors) cut with black tea and fennel." - Kate Dingwall, Forbes
Something Curious
It's amazing how different toasted fennel tastes from raw fennel seed. The toasting process triggers the Maillard reaction, transforming sugars and proteins into new compounds (the same happens when browning meat, toast, or nuts). In the case of fennel, nutty flavors transform into notes of dark chocolate.
Nutritionals
No alcohol. No added sugars. No funky additives. Per 5oz / 148ml serving: Calories 49, Sugar 9g
Ingredients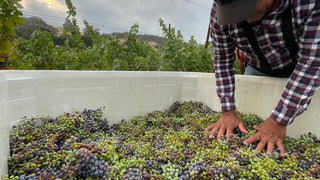 Verjus: Our Star Ingredient
Verjus adds magic to our non-alcoholic beverages. It's crafted from young chardonnay grapes, picked early in the fields of California and pressed into a delicious, tart, golden juice. It gives Kally acidity and bite, while being alcohol-free.
Organic Fennel Seed
Carefully toasted seeds add rich notes of chocolate with hints of black licorice and anise.
Organic Cherry
Balancing sweet and sour, our cherries bring a smooth richness to every pour.
Organic Strawberry
Sweet and juicy, we add strawberry to bring out a refreshing fruity flavor.
Organic Black Tea (decaffeinated)
Tannins in this rich black tea create a dry finish and delicate astringency in every sip.
House Notes
Big, friendly and cheerful, Berry Fennel has a personality and a flavor profile that stands up to bold food pairings.
When we made Berry Fennel for the first time in our kitchen, we toasted fennel seeds in a skillet and then steeped the seeds into the drink in a tea filter bag. We loved the transformation—a savory layer on top of the tannins and berry notes.
We love sipping Berry Fennel alongside Five Spice Tofu with Sesame Noodles. Five Spice is usually made of star anise, cloves, cinnamon, ginger, and…wait for it…fennel!

Still curious? We've got more on the story of Berry Fennel.